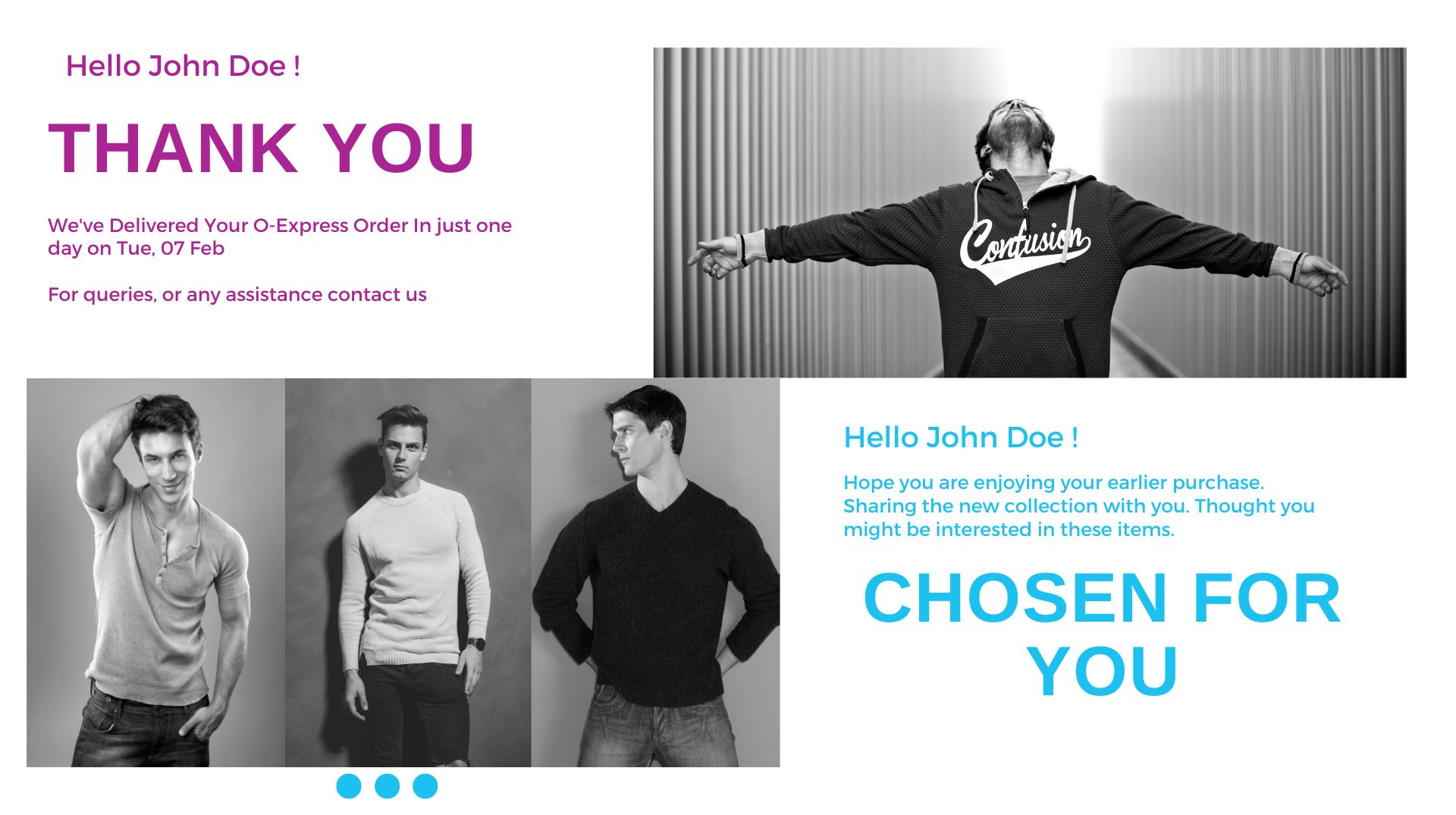 06 Feb

Personalizing transactional emails for better results

Transactional emails are automated messages that are triggered by specific actions taken by a user on your website or application. These emails serve as a direct line of communication between you and your customers and are an essential part of any business. They can be used for a variety of purposes, such as confirming an order, providing shipping updates, or resetting a password.

However, generic and non-personalized transactional emails can often be overlooked or discarded by customers, leading to missed opportunities for engagement. That's why personalizing these emails can have a significant impact on their effectiveness.
What is Personalizing of emails
Here are a few ways to personalize your transactional emails:
Use the recipient's name Including the recipient's name in the subject line and greeting of the email can make it feel more personal and relevant. For example, instead of "Hello," use "Hello [Name]," to make the recipient feel acknowledged and valued.
Mention specific details about the recipient's action If the transactional email is triggered by a specific action taken by the recipient, mention that action in the email. This shows that you are paying attention to the recipient's behaviour and reinforces the connection between their action and the email.For example, if the recipient has just made a purchase, you could say "Thank you for your recent purchase of
Offer personalized recommendations Use the recipient's purchase history or browsing behaviour to suggest related products or services that they may be interested in. This not only helps to drive sales but also makes the recipient feel like the email is tailored specifically to their interests.
In conclusion, personalizing your transactional emails can help to increase their effectiveness by making the recipient feel valued and acknowledged. By including the recipient's name, mentioning specific details about their actions, and offering personalized recommendations, you can create a more engaging and personalized experience for your customers.
Tips to Personalize Emails
Personalizing transactional emails is a powerful way to improve customer engagement and drive conversions. Here are a few tips on how to do it effectively:
Use dynamic content: Use dynamic content to personalize the content of your transactional emails based on the recipient's interests, preferences, and behavior. For example, you can use dynamic content to show different products to different customers based on their browsing history.
Segment your audience: Segment your audience based on demographics, behavior, and other criteria, and personalize your transactional emails accordingly. For example, you can segment your audience based on purchase history and send personalized product recommendations to different segments.
Use triggered messaging: Use triggered messaging to send automated, personalized emails based on specific events, such as a customer's birthday or the anniversary of a purchase.
Use personalization tokens: Personalization tokens allow you to automatically insert the recipient's name or other personal information into the email, which can make the email feel more personalized and increase engagement.
Test and iterate: Test different personalized emails on different segments of your audience, and iterate to improve the personalization and overall user experience.
Use data from other channels: Use data from other channels such as social media to personalize your emails, for example, if you know that the customer is interested in a certain type of product, you can use this information to personalize your emails.
Use A/B testing: use A/B testing to test different personalization strategies and measure the results, this can help you to identify the most effective personalization strategies.
By following these tips and focusing on personalizing transactional emails, you can improve customer engagement and drive conversions, increasing the chances of your customers coming back to your business.
Maximize the impact of your transactional emails with personalization. Discover the benefits and tips for adding a personal touch to your emails and improving engagement and conversions.